Active Bodies Quadrathlon
Get Tickets
Details
Comments
Event Description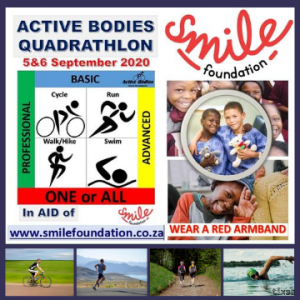 ACTIVE BODIES QUADRATHLON REGITRATION
#cycle4smile - #run4smiles - #walk4smiles - #swim4smiles
Donations:



From R10 for youth upto the age of 18




from R50 (minimum amount) per adult



You can enter as:



An Individual




Team Size: from 2 to unlimited members



How to participate:



It is all about having fun and raising funds for the Smile Foundation.




You can do 1,2,3 or all activities within your QUADRATHLON RACE.




When you participate as a team, you are more than welcome to have a "relay" approach (All members of a team don't have to do all the activities).



Virtual Activities to select from (do 1,2,3, or all 4 activities):



cycling (ROAD/ MTB/ BMX, Indoor trainer),




running (urban/ trail/cross country/treadmill),




walking/hiking (urban/trail/cross country/treadmill),




swimming (open water/dam/river/swimming pool/bath) & can be completed by all members of a family young & old.



Please select one of the following QUADRATHLON RACES available, get your tickets and register:



BASIC QUADRATHLON:

5km run/walk/cycle and/or 100m swim


ADVANCED QUADRATHLON: 10km run/walk/cycle and/or 500m swim


PROFESSIONAL QUADRATHLON: 15km run/walk/cycle and/or 1km swim


MULTI-DISTANCE: please specify which activity and number of km you intend to complete.


HOW TO ENTER AND WHAT TO EXPECT:
STEP 1:

To enter: complete the registration form on checkout and pay the entry fees!

Please make sure you have the following information at hand (per entry/participant):

Name & Surname

Email Addresses

Contact Number

ID/Passport number

Which activity you will be participating in: Cycling, Running, Walk/Hiking AND/OR Swimming.

STEP 2:

Like the Active Bodies Sports Development Facebook page AND please use the following event hashtags:

#run4smiles

#walk4smiles

#cycle4smiles

#swim4smiles

#quadrathlon4smiles

STEP 3:

Tag the Active Bodies Sports Development Facebook page with:

the results,

photos & videos

Submit an email to

[email protected]

with the results.

SUBMISSION DEADLINE: 11:59pm Sunday 6

th

September 2020.
RULES:
The rules are simple & is inclusive of anyone who has a smart phone, Garmin or any measuring device. Should participants not have any measuring device & is not competing for a NON-STOP prize, he/she can just send a photo of participation.



As all funds will be going to charity, no refunds will be given.




Organisers have the right to disqualify participants for non-compliance to the rules of the event and/or dishonesty.




Any disputes/complaints/compliments must be lodged with the independent appointed official via email to

[email protected]

.




All funds raised will be donated to the Smile Foundation




And

a cycling programme for Blomvlei Primary School in Hanover Park, Heatherdale Primary in Athlone, Surrey Primary in Surrey Estate & Nooitgedacht Primary School in Valhalla Park including Pedal Power Association #bike4all BMX bikes.



DISCLAIMER:
If you are registering to compete and take part in one of the events organized by Active Bodies Sports Development, you confirm the following that:



You are of legal consenting adult age, in the country within which the event is being held, or you have parental or guardian consent.




You are free of any physical, mental or emotional disability and physically fit in every way to be able to participate in this event.




Your participation in an event is voluntary and like all sports has a risk of physical injury and you fully accept responsibility for all such risks as a condition of participation.




You understand and accept that Active Bodies Sports Development the event organisers do not accept any liability of any sort for bodily injury, illness or death sustained to or by you or loss or damage to any of your possessions or goods (i.e: bicycle, sports equipment, money, vehicles, jewellery, clothing, cameras etc) whatsoever and howsoever their loss or damage is caused.



Join the Conversation
Follow the event with #quadrathlon4smiles
View Everyone
Who's Going?

Ahmed M

Shaheen P

Chantal S

Faieza A

umraan j