Bride to be Experience & Ladies Night out / CANCELLED
Sat. 11 Jun, 2022 4:00pm - 11:45pm SAST
R460.00 - R590.00
18 and Over
Event Stats
R460.00 - R590.00
18 and Over
Event Description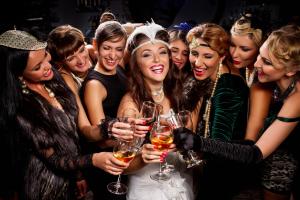 Wedding & Lifestyle Hub SA invites all engaged ladies to an exclusive ladies event, a MUST- experience for ALL brides and her entourage, filled with wedding suppliers, ideas and excitement. Come have fun while planning your wedding!  
The evening event includes a fashion show with Kriya from Jacaranda Fm, decor tables, 3 course meal, lucky draws, guest speakers, live entertainment and much more.
This magical evening kicks off with a intimate exhibition. Come enjoy a glass of champangne/wine with the suppliers, get to know them and ask all the questions you want. 
Important info:


VIP ladies (Exhibition & Dinner Show) - Arrive at 16h00 - Exhibition 16h00 - 18h00


Evening event starts: 17h30 to 23h00


Please bring cash, cash bar for beverages availabe, exhibitors also have goodies/products for sale


FORMAL event - Remember your Mask


Please support our GLOW Network - Women in need, please bring along a handbag with toiletries you would like to donate.


**Ladies only**


You may request to cancel your ticket for a full refund, up to 4 weeks before the date and time of the event.


We look forward in meeting you at the event. Be sure to be amazed - this is truly an evening to remember, a lifetime memory.
Ps: Dress to impress and remember your dance shoes.
POPI ACT - VIDEO FOOTAGE / PHOTOS at the event.
By attending this agreement you agree to the following:
Without expectation of compensation or other remuneration, now or in the future, I hereby give my consent to The Venue & Wedding & Lifestyle Hub SA, its affiliates and agents, to use my image and likeness and/or any interview statements from me in its publications, advertising or other media activities (including the Internet). This consent includes, but is not limited to:
(a) Permission to interview, film, photograph, tape, or otherwise make a video reproduction of me and/or record my voice;
(b) Permission to use my name; and
(c) Permission to use quotes from the interview(s) (or excerpts of such quotes), the film, photograph(s), tape(s) or reproduction(s) of me, and/or recording of my voice, in part or in whole, in its publications, in newspapers, magazines and other print media, on television, radio and electronic media (including the Internet), in theatrical media and/or in mailings for educational and awareness.
This consent is given in perpetuity, and does not require prior approval by me.
Join the Conversation
Follow the event with #WeddingandLifestyleEVENT2022