CINEMATIC MOTION
Multiple Dates & Times
Event Description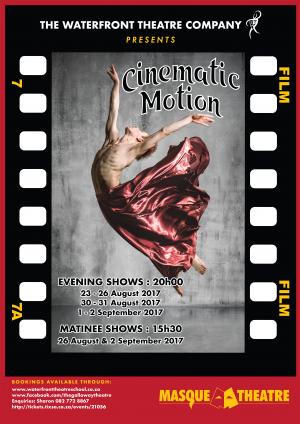 Join us for a night at the movies!
The show will feature inspiration pulled from Hollywood Motion Pictures that will definitely leave you wanting more. Come & join us on an exciting journey through some of your favourite movie moments.
In addition to highlighting the best of the college's dance faculty, this show is a fundraiser for the WTS Bursary Fund which supports the future generation of young artists who may not have the resources to access further training.
Venue: The Masque Theatre, 37 Mai Rd, Muizenberg
Tickets: R130
Dates: 23, 24, 25 & 26 August @ 20h00
30, 31 Aug, 1, 2 September @ 20h00
Matinée Shows: 26 Aug & 2 Sep @ 15h30
Bookings: http://tickets.co.za/events/21056
Enquiries: Sharon 082 772 8867
Join the Conversation
Follow the event with #gallowaytheatre