WOES 54 - Red Die Boer Restaurant Teater Show 1
Fri. 29 Jan, 2021 6:30pm - 10:30pm SAST
Event Description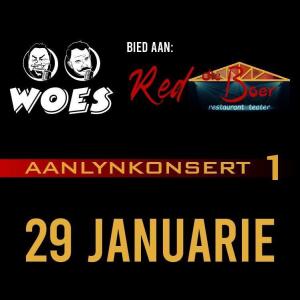 WOES 54
Onthou die hout en brood vir die braai-broodjies. Vanaand gaan weer lekker wees. Skakel in op Woes met YouTube op jou Smart TV want wat is 'n braai op 'n Vrydag sonder Woes
Jaco en Hammie is weer gereed om die kykers deur 'n emosie-belaaide program van lag, saam gesels, musiek en spanningsvolle veilings te neem.
Sit agteroor en geniet lekker vermaak in jou huis.
Vir enige kaartjie navrae kontak ons kaartjievennoot TIXSA.
TELEFOON:
012 880 26 35
WERKSURE:
MAANDAG - VRYDAG 9VM – 5NM
SATERDAE 10VM – 4NM
SONDAG 10VM -1NM
PUBLIEKE VAKANSIEDAE: 10VM – 1NM
MUSICIAN - album Kyk Na My out now TV PRESENTER - Boer Soek 'n Vrou ACTRESS - Sterlopers, As Jy Sing, Susters
Born and raised in the heart of the Cape Flats, Mitchells Plein, Emo Adams celebrates his birthday on the 9 April 1978. Being the younger sibling of only two sons, his childhood years were filled with the sound of harmonies & song, strongly influenced by his musically inclined father and the musical talent of his elder brother.

At the tender age of 9, Emo was cast to play the role of a homeless street child in the well renowned production "District 6 The Musical", written and produced by David Kramer and the late Taliep Pertersen. It was here, at this young age where his love for theatre and his journey into the world of the performing arts began.

Spending most of his teenage years singing along to the melodies of the Malay Choirs and annually performing with these harmonious choirs as part of his Malay cultural background, music and melodies became an infectious part of his life.

On completion of his high school career at Spine Road High, Mitchells Plein, he embarked on furthering his education when he enrolled at Boston House College. He soon discovered that his passion for performing was ultimately where his heart lies.

In 1996, along with 3 friends & his brother, Luqmaan, the guys formed a 5 member boy band called JAG. The singing sensation JAG soon became popular in and around the Cape, PE and JHB for their perfect harmonies and entertaining live performances. Although JAG still perform together as a group, Emo has over the years managed to ensemble a rich history of drama, dance, music and theatre.

In 2001, he once again was cast in the production 'District 6 The Musical', where he this time round played the role of "Sophia" a dynamic glamorous drag queen.


In 2000 Emo traveled extensively to Germany as part of the cast of David Kramer & the late Taliep Petersen's Lawrence Olivier award winning production 'Kat & the Kings" where he played the role of a young singing sensation Kat Daimond.

On being cast in the huge Bollywood production 'Fusion" which was staged at the Globe Theatre in Jhb in 2006, Emo showcased his immense talent and flexibility in performing indian song and dance in an all traditional Bollywood style.

Among the many theatre productions, he also played a lead role in the KYKNET television series "Alie Barber", making guest appearances on the "Liriekeraai" musical game show and was recently seen as a guest on SABC 2 music show Noot Vir Noot.

Earlier this year he performed alongside the talented Mynie Grové and many other Afrikaans artists at the annual KKNK Fees in Outdshoorn. He then headed to the rural town of Clan William where he auditioning local young school kids & spent weeks producing & directing a musical production, sponsored by ABSA, as part of the 2007 Cederberg Festival.

His latest endeavors include the release of his first cd "Tall, Dark & Afrikaans" which combines tasteful Afrikaans lyrics together with his fresh take on music and melodies.

His witticism, sharp tongue, energy and playful nature have captured the smiles and laughter of young and old entertained by this artist. In typical Emo style, the album is certain to appeal to all listeners who are sure to relish in his magical talent.




Mathys Roets het sy musiekloopbaan in 1989 begin toe hy met sy kitaar in die hand, in 'n winkelsentrum in Pretoria, vir fooitjies gesing het. In 1996 maak hy 'n belangrike deurbraak met sy debuutproduksie op die KKNK. In hierdie vertoning, Nokturne, sing hy die musiek van Koos du Plessis. Die musiek van Koos du Plessis het Mathys, met sy donker fluweelstem, soos 'n handskoen gepas. Deur sy loopbaan het Mathys bekendheid verwerf vir sy sielvolle vertolkings van die wêreld se mooiste ballades, veral die musiek van Leonard Cohen, Roger Whittaker en Neil Diamond. Die pad wat hy gestap het, was nie maklik nie. Hy het harde bene gekou, self luidsprekers rondgedra en van restaurant na restaurant gegaan om daar te sing, maar toe hy uiteindelik raakgesien word, het dinge behoorlik vir hom vlam gevat.
What the world has begun to realise is that Elvis Blue resonates with a creative force that ebbs only from the most talented of artists.

One simply has to listen to the hauntingly beautiful Things My Father Said or Lighthouse or Save Me, or any of his original compositions for that matter, to realise that you are in the company of greatness. Balance this divine gift with great humility, a kind heart and the work ethic of Henry Ford and you begin to understand the soul within this artist.

The gifted musician's journey started when he was a young boy, singing in school choirs, and busking in the streets of Johannesburg and Scotland. His one and only goal was to make and perform music. After a stint overseas as a street musician, Elvis returned to South Africa where he decided to study contemporary music.

After appearing in numerous bands Elvis started a project where he sang under the name MONO. He released three albums under this time. When MONO's record deal came to an end, Elvis decided that he would move to George where he would become a music teacher, write his own music, and live a quiet life.

After spending some time in George, Elvis was approached by a record company who wanted him to record an Afrikaans album. "The first album I did was under the name Jan Hoogendyk, my real name, and the album did really well. It won an ATKV Lier Award. His second Afrikaans album, "Ontskemer" also under the name Jan Hoogendyk, was nominated for a 2010 South African Music Award.(SAMA).

While living in George he met the friend whose name he would adopt in 2008. "My wife works at an organisation that is a hospice and children's home and I met this little boy there when I used to go and play my guitar for them. He really wanted to be a keyboard player, and his name was Elvis Blaauw", he says. When he passed away in 2009, as a tribute to this amazing young man, Jan Hoogendyk adopted his name and Elvis Blue was born.


In 2010, Elvis Blue won the title of Mnet Idol for that year – sharing half the profit with runner up Lloyd Cele.

Elvis Blue released the album that would change his life as a musician and consolidate all his years of hard work. This album was simply titled Elvis Blue. On the album's release in November 2010, it shot up the radio and sales charts and reached Gold status. The first three singles Things My Father said, Lighthouse and Save Me were massive hits. The album went platinum in late 2011.

Elvis is also a dedicated husband and father besides being a world class musician and a household name in South Africa.

Elvis was named an official global ambassador for the 46664 Bangle initiative, and through this opportunity he helps to educate people on the social justice ethos of Mr. Nelson Mandela. The 46664 Bangle initiative is one of the 46664 Foundation's key initiatives.

Elvis has also partnered with Bavarian Motorcycles as their BMW motorcycle brand ambassador for the year 2012.

The success Elvis Blue over the past few years enabled himself to invest in something very near and dear to his heart – The Elvis Blue Music Academy. The Academy was started by Elvis to teach underprivileged children the joy of music. The organisation provides instruments and instruction in a safe, warm environment. "Music has the ability to heal," Elvis says. "This venture is living proof of that." The Elvis Blue Music Academy operates in the Western Cape, George, Alexandra & Zandspruit in Gauteng..

Elvis released his 2n album "Journey" in 2012 and his 3rd album, "Afrikaans" in 2013. All 3 albums, were awarded the SAMA for Best Adult Contemporary Album consecutively in 2012, 2013 and 2014.

Elvis' success is due to years of hard work, passion and commitment, and even though the path has been long and sometimes never ending, the real journey has only begun now.



Die suksesverhaal van 'n beskeie, talentvolle sanger

Sy besonderse talent om stories met sy musiek te vertel vind groot aanklank by 'n wye gehoor. Sy nuutste album "AFRIKAANS", sy vorige album "JOURNEY" sowel as sy debuutalbum "ELVIS BLUE" is nie net gewild vanweë die oorspronklikheid nie, maar ook omdat dit 'n baie sterk Suid-Afrikaanse inslag het.

Elvis is die eerste Afrikaanse sanger wat op die Top Tien van die iTunes Stores pryk – en hierdie groot eer het hom te beurt geval pas nadat sy jongste album "AFRIKAANS" uitgereik is. Sy vele SAMA-benoemings die afgelope twee jaar is ook 'n bewys dat hy 'n baie talentvolle liedjieskrywer en sanger is. Hy het in April 2012 met die SAMA-prys vir die Best Adult Contemporary album ("ELVIS BLUE") weggestap en in 2013 vir "JOURNEY". In 2014 is "AFRIKAANS" met die SAMA vir Beste Kontemporer Musiek Album bekroon.

Elvis meen sy musiekloopbaan het die jaar voordat hy as wenner van SA Idols gekroon is, begin vlam vat.. "Ek oefen elke dag, want dit help my om voorbereid te wees vir wat dalk more op my wag. Al kry ek selfs benoemings of pryse, beteken dit nog steeds nie dat ek dit gemaak het of gearriveer het nie. Dit is bloot erkenning vir dit wat jy gelewer het, en dat jou produk gehoor word en na waarde geskat word. "Ek wil graag hê my musiek moet 'n positiewe verskil in mense se lewens maak."

Voordat Elvis as die wenner van SA Idols aangewys is, het hy soos menige musikant eers in 'n paar bands gespeel. Hy het byvoorbeeld die projek MONO begin, waar hy onder dieselfde naam gesing het. Toe MONO se platekontrak verstryk het, het hy besluit om sy vlerke te sprei. Hy het na George verhuis waar hy musieklesse gegee het, sy eie liedjies geskryf het en 'n rustiger lewe gely het.

Daarna het nog 'n Afrikaanse kontemporêre album gevolg wat hy onder sy eie naam, Jan Hoogendyk, uitgreik het. Die album is met 'n ATKV Lier-toekenning bekroon. Sy volgende Afrikaanse album 'ONTSKEMER", wat hy ook onder Jan Hoogendyk uitgereik het, is vir 'n SAMA-prys in 2010 benoem.

Terwyl hy in George gewoon en gewerk het, het hy gereeld by die kinderhuis en hospice, waar sy vrou werksaam was, vir die kinders en pasiënte gaan sing. "Ek het toe die siek seuntjie Elvis Blaauw ontmoet. Hy wou baie graag 'n klawerbordspeler geword het." Toe die seuntjie in 2009 gesterf het, het hy besluit om Elvis se naam te laat voortleef en sy nuwe verhoognaam Elvis Blue is gebore.

Hy in 2010 die titel van M-Net Idol van die Jaar ingepalm en die helfte van sy wengeld met die naaswenner Lloyd Cele gedeel. Sedertdien het hy ook die eer gehad om vir sterre soos James Blunt en Bon Jovi tydens hul konserte met sy eie vertoning te open.

Die landskap van sy loopbaan het uiteraard in 2010 (na Idols) drasties verander. Sy album 'ELVIS BLUE" wat in November 2010 uitgereik is, het reeds platinum-status bereik en nie minder as drie liedjies 'THINGS MY FATHER SAID" "LIGHTHOUSE" en "SAVE ME" het immergroen treffers geword.

Elvis is 'n toegewyde wederhelf en pa en is ook 'n amptelike ambassadeur vir die 46664 Bangle projek, wat 'n groot bydrae tot plaaslike opvoeding lewer. Sy sukses het ook daartoe aanleiding gegee om te belê in the Blue Music Academy. Die akademie is gestig om minderbevoorregte kinders in musiek te onderrig, 'n projek wat hom ook baie na aan die hart lê. Die organisasie verskaf insturmente en opleiding in 'n veilige omgewing. "Musiek het die vermoë om heel te maak en hierdie akademie is ook 'n duidelike bewys daarvan. " Die Blue Music Academy is aktief in die Wes-Kaap, George, Alexandra en Zandspruit in Gauteng.

Vir verdere navrae kontak:
Kona Brown
E-mail: [email protected] Tel: +27(0)834563341

Join the Conversation
Follow the event with #Woes