The Big Night In: Teenage Mutant Ninja Turtles (1990)
Sat. Aug 17, 2019 at 8:00pm SAST
Event Description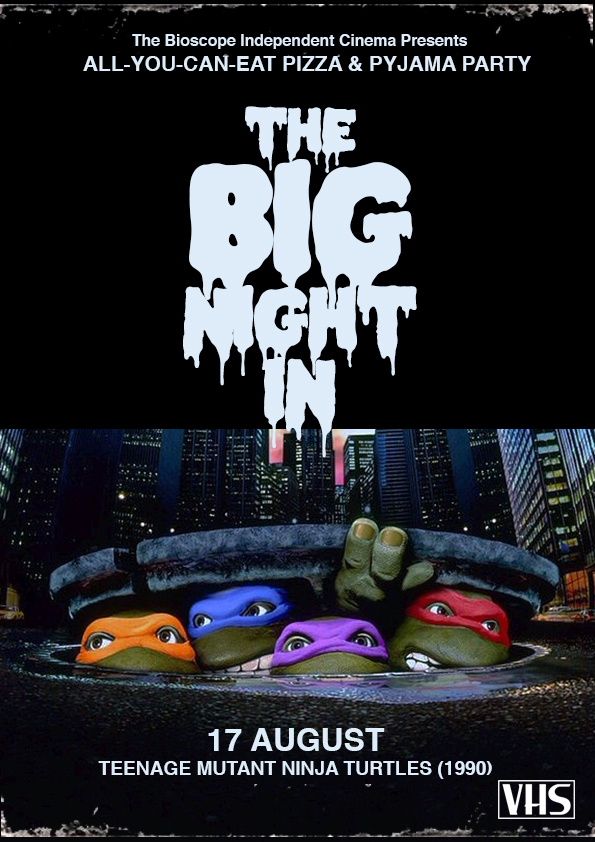 'The Big Night In' is The Bioscope's night of cheesy movies and all-you-can-eat pizza! That's right, from the moment the film starts, until the credits, we will keep bringing the cheesy goodness into the cinema! All you have to do is take from our staff and share the love around.
This is one for all those not looking to go out and be all fancy. This is that night in, where it was just you, a group of your friends, a bad VHS copy rented that day, and enough pizza for everyone. So come comfy! We welcome blankets and pillows, and don't be afraid to come in the same clothes you can climb into bed later that night in! This is a safe space! We'll have bottomless hot chocolate on sale for everyone in their PJs.
Look out for more 'Big Night In' nights in future months!
Tickets: R110 (Ticket includes all-you-can-eat pizza for the duration of the film).
Directed by: Steve Barron / Action, Adventure, Comedy. 1h 33min.
Four teenage mutant ninja turtles emerge from the shadows to protect New York City from a gang of criminal ninjas.
View Everyone
Who's Going?

Rozani S

Laura K

Bianca S

Amelia R

Miodrag J