Avon Justine iThemba Walkathon
Sun. 3 Oct, 2021 7:00am - 5:00pm SAST
13 days away
R0.00 - R180.00
All Ages
Event Stats
13 days away
R0.00 - R180.00
All Ages
Event Description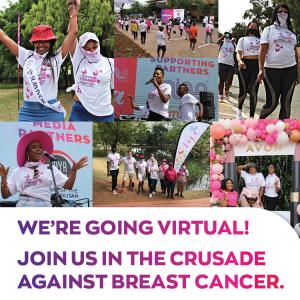 We're nationwide!
With Covid-19 restrictions still limiting mass gatherings across the country, the 2021 iThemba Walkathon will again be decentralised. This means you can join the Walkathon wherever you are.
Join us as we paint South Africa pink. Dress up in your iThemba Walkathon t-shirt and add some personality to your outfit.
To keep us all united on the day, we will share all the action from across the country on the iThemba Walkathon social media platforms, including Twitter, Instagram and Facebook.
Wherever you are, walk and share your experience and tell us why you're crusading against breast cancer. Together we can change the world.
The iThemba Walkathon proudly support the Cancer Association of South Africa, Wings of Hope, Journeysys, and Look Good Feel Better. (LGFB)
Event Details
Date: Sunday, 3 October 2021
Venues:


Where: walk wherever you are.


There will be four by-invitation only walks hosted in Johannesburg, Cape Town, Durban and Phalaborwa.


Tickets:


Adult: R180


Children: R100


Optional home delivery of your gift bag: R80,50. (Gift bags will be delivered free of charge at select pick-up points across the country) 


HOW TO ENTER:


Online: Click on the ENTER tab and follow the easy steps. Please note, deadline for online entries is: 25 September 2021.




In-store: You can also enter at select Sportsman's Warehouse stores. Simply complete an ENTRY form and pay in store. Deadline for in-store entries is: 15 September 2021.


The list of participating Sportsman's Warehouses are:


Eastern Cape: Moffet Park, Gqeberha


Freestate: Bloem Value Mart, Bloemfontein


Gauteng: The Fourways Mall, East Rand Value, Atterbury Mall


KwaZulu Natal: Cascades SC Pietermaritzburg, Pavilion Mall


Limpopo: Thornhill SA, Polokwane


Mpumalanga: Highveld mall, Nelspruit Crossing


Northwest: Platinum Square and Matlosana Mall


Northern Cape: Northern Cape Mall


Western Cape: Tygervalley, Somerset Mall


Gift Bag
All early-bird entries for this year's Walkathon will receive a gift bag, which include:


An Ithemba Walkathon 2021 collector's t-shirt


Avon product


Justine product


An iThemba Walkathon 2021 collector's buff


Gift Bag delivery options
When registering for this year's event, please note that there are TWO delivery options for your gift bag:


Home deliver: For an additional R80,50 we can deliver your bag directly to your home.


Free Pargo Delivery:

For no additional cost, we'll deliver your bag to your nearest Pargo PickUp Point thanks to our partnership with Pargo!



About the iThemba Walkathon
The iThemba Walkathon is the largest breast cancer walk in the Avon world, consisting of over 50 participating countries.
Aimed at generating awareness of breast cancer in South Africa, we hope to reach all women in our beautiful country with the message that Early Detection Saves Lives!
This objective is in line with our breast cancer promise and #stand4her mission to positively impact the lives of 100 million women globally every year through to 2030.
An important component of the iThemba Crusade of Hope which was launched in 2001, the iThemba Walkathon aims to encourage women to go for regular screening thereby potentially saving countless lives.

Since the Avon iThemba Crusade of Hope was launched, more than R24 million has been raised for breast cancer education, awareness, and community benefit programs since. This has been donated to our strategic NGO partners that we have worked with over the past 20 years.
From Me To You
At the heart of gifting is purpose. We give because we love, we care and appreciate.
We're inviting iThemba Walkathon walkers to ignite their purpose and to show that their hearts are open to give.
We're moving from apathy to action. Together, we raise awareness, we speak out and we build a better world for women.
Register today to be part of the world's biggest Walkathon for cancer, get your Gift bag and help raise funds and raise awareness about Breast Cancer.
For Ticketing, Manual EFT Options and Registration Queries please contact our ticketing team on:
Email Address: [email protected]
Phone Number: 012 880 26 35
Operating Hours:
Join the Conversation
Follow the event with #iThembaWalkathon